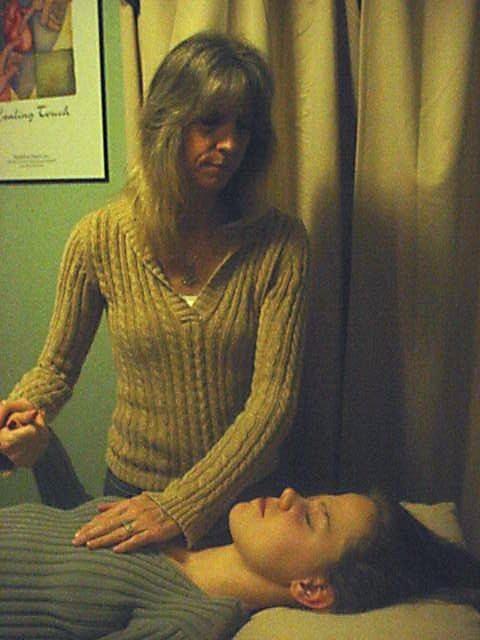 In this journey of healing and becoming a healer, I have worked in a variety of environments, with clients, groups and peers over the last 15 years.
Here are excerpts from testimonials I have received as a student (and simultaneously an employee) prior to my certification as a Healing Touch Practitioner and Reiki Master, and then as a colleague and practitioner.
There are also very profound stories of healing from some of the cancer patients I have worked with in the last 8 years at Memorial Hospital ~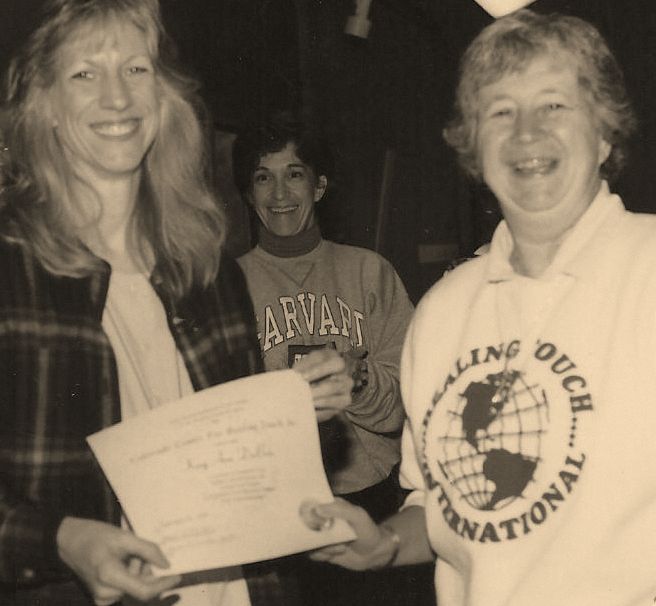 Receiving my certificate of completion for Healing Touch level 5 in 1997 from Janet Mentgen, CHTP/I, Founder of Healing Touch Program
... Your work is a great example of a student well prepared for class - Keep it up! ...
Janet Mentgen, R.N., B.S.N., C.H.T.P./I. (Founder of the Healing Touch Program)
...I've gotten such wonderful feedback from my clients about you. They say you are a real asset to our business. I feel you are that and much more. Your genuine warmth, integrity, clear headed decision making, sincerity and wonderful artistic abilities are all appreciated by me. I'm very glad you're a part of the Bodyworks...Ellen Sommer, R.N., L.M.T., Reiki Master, C.H.T.P., Co-Owner of the Bodyworks
...Your personal "radiance" always shows through. Your willingness to tackle anything and everything I put in your path is commendable. You are a gift to me and to the Bodyworks...Thanks for a job well done, always...Sally Mellon, L.M.T., Reiki Master, C.H.T.P., Co-Owner of the Bodyworks
...Thank you for your wonderful gift of patience, endurance and gift of healing...your strength of heart is an inspiration to me...Chris K., R.N., L.M.T., H.T.P.
...I have known Kay DuBois for over 17 years and have seen her develop and expand her skills as a health practitioner. I trust and receive great benefits from her Healing Touch treatments. She is confident, knowledgeable, and empathic to her clients. As the mother of a special needs child, she has a unique perspective & ability to integrate alternative & orthodox approaches to solve health issues. Enjoy your treatment!...Judith Yarrow, Holistic Nutritionist, Colonic Therapist, Herbalist and distributor of Young Living Essential Oils
...Many thanks for your gift of time, talent, love and Healing Touch on Wednesday, October 22 (1997). The hospice staff loved the experience. On many it was a first. (A very positive first I might add.) With gratitude...Joanne, Pikes Peak Hospice
...Thank you so much for coming and working on my father. He came through surgery just fine and needed very little pain medicine that first night. The anesthetic wore off without any residue in his system. I truly believe that your touch was a vital part of his success. I appreciate your thoughtfulness...Linda O., client's daughter
...I did not get a chance to tell you my session was a great help - it's like it started things rolling. You told me I would get real emotional in the next week, well it didn't happen till the next week after and I was not expecting it, but I welcomed it. I have been more able to understand the things holding me back that I could not understand in the past. Thank you for your help...Kathy D., client
Journals of Healing the Emotional and Physical Toll of Cancer
August 7, 2006
In June 2005 I found a 3.2-centimeter tumor in my right
breast and was diagnosed with invasive ductal carcinoma. I
planned to have a lumpectomy, but didn't want to have
surgery right away because I thought that it would
automatically create a gross deformity. I also mistakenly
thought I had to find my own plastic surgeon and wanted to
buy some time to shop around. To help decide what action to
take next I asked myself what was my greatest fear if I
didn't have the cancer taken out right away. I was most
afraid that the cancer would spread to some other
vulnerable part of my body, so I went straight onto neo-
adjuvant chemotherapy.
When I began taking advantage of the Integrated
Therapies at Memorial Hospital, first I tried Reiki, but it
wasn't my style just because I prefer something more ~"hands
on", having enjoyed therapeutic massage for many years.
When I met Kay Dubois for my first Healing Touch session I
had no idea what to expect and no opinion as to whether I
would benefit from it or not. If anything, I was not
inclined to think it would help me. From the start Kay was
professional yet personable and sympathetic. She has
treated me for roughly nine months, supporting me through
most of my breast cancer process.
I went into chemical menopause induced by the chemo,
so hot flashes and worry have made for restless nights. On
the minor end of the benefits I have gotten from Healing
Touch is the sense of having had a full night's sleep and
an increased ability to cope with the day ahead after a
session, no matter how bad the night before had been.
I always left with greater energy, focus and improved well-
being.
The most significant contribution Kay and her practice
made for me involved helping me process about the changes
my body was going through, particularly the mastectomies.
My surgery date was looming closer and during one treatment
I cried nearly the whole session, sometimes talking about
the pending loss, sometimes praying affirmations into the
overwhelming devastation within me. I'm not sure how I got
there, but at the end of the session I was completely at
peace and ready to face the surgery. Kay treated me just
before surgery and we were all amazed at how relaxed and
cheerful I was, especially considering how horrified I'd
been just the week before. Healing Touch transformed me
emotionally and I will remain forever in Kay's debt for her
help at a critical time in my life.
Ashley C. Memorial Hospital Patient

May 31, 2007
Ms. Britta Newcomer,
Ms. Kay DuBois, Volunteer,
Ms. Pat D., Volunteer
525 North Foote Ave, Colorado Springs, CO 80909
Dear, Britta, Kay and Pat,
When I heard the sentence people dread the most, "You have cancer", I was in disbelief.
I started just going through the motions of surgery and radiation. Early on in my radiation
treatments I discovered the gift of Healing Touch through the Memorial Hospital Cancer
Center. It was then that I came face to face with my reality.
The reality was that there are many layers as to who I am as a person. I was dealing with
only the physical level in the beginning. The day I had my first HT session I started
integrating my body and spirit. The calm, peacefulness that was offered through the loving,
caring trained volunteers, Kay and Pat was so powerful. Being with them made me realize
that there was so much to healing and what they offered was so incredibly valuable.
Through the loving powerful energy that flowed from them, awaking my own energy, I could
actually feel my energy pulsating through my body. I knew that I was accelerating my
healing by using medicine and energy work together. To me, this was a huge differentiator
of treatment.
I would encourage ALL patients to take advantage of this phenomenal gift. The patient
does not have to be "open" to anything except relaxation. To spend an hour having
someone focus and care only for you, was very healing for me. I hope more people will
learn of this gift early on in their journey and take advantage of it.
Thank you all for this amazing support when I needed it the most in my life. I tell everyone
about my very positive, open minded experience at your facility. Thank you.
With a grateful heart,
Pat D.
cc: Dr Dax
December 2008
Dear Dr. Dax,
I am writing to you to inform you of my very positive experience at Memorial's Cancer
Center, most particularly with Healing Touch and my practitioner, Kay DuBois.
When I was first diagnosed with ovarian cancer in May of 2007, I was contacted by a
fellow employee who had a similar diagnosis. She advised me not to miss out on the
opportunity for Healing Touch for me or my caregiver. I followed her advice and for
several months my husband and I marveled at our experiences with Healing Touch.
As we compared notes from each session we were awed by Kay's abilities to transform
our bodies, spirits and emotions. We believe we witnessed miracles and that more were
possible, touching both our hearts and bodies.
It was the only health related appointment we actually looked forward to in those first
fearful and fretful months following diagnosis. At a time I felt reduced to a diagnosis, I
actually discovered the needs and healing capabilities of my emotional and spiritual
dimensions.
Still receiving chemotherapy a year and a half later I continue my "work" with Kay. She
continues, as my daughter once wrote in a poem about me, "to spend lots of time with
me, her heart reaches to my need".
Though this letter is long overdue, I want to applaud you and thank you from a patient's
point of view for your openness towards complimentary therapy, the insight to know a
patient's many needs beyond the physical, the foresight with which to recognize an
exceptionally gifted healer.
Most sincerely,
(Martha) Elayne A.